Together We're In A Different League
26 January 2023
---
Dublin Bus and Bohemian F. C. Extend Partnership Committing to Increasing Diversity and Inclusion in Irish Football
Two icons of the capital, Dublin Bus and Bohemian Football Club, today announce a new deal that sees Ireland's largest public transport provider become the main shirt partner of Bohemian FC Women's Premier Division team. In addition, Dublin Bus will become the exclusive Diversity & Inclusion partner to Bohemian FC and main shirt partner for the girls 19s, 17s and Amputee team. The deal, which runs for three years until 2025, builds on a longer term partnership that began in 2020 to support the club to grow and expand its positive impact on the city of Dublin.
To coincide with the announcement, they have released the joint 'Together We're In A Different League' manifesto which commits to increasing diversity and inclusivity within Irish football. This will be achieved by elevating the women's game through increased visibility and accessibility to the game for players, better and equal access to facilities for the women's teams, more female representation in the club's management and development roles, and new and continued work to engage stakeholders and the community in the women's game.
To kick it off, Bohemians today revealed that both its men's and women's Premier Division teams will now train at Dublin City University's High-Performance Centre, providing entirely equal access to the world-class, elite training facilities.
Speaking about the announcement, Dublin Bus CEO, Billy Hann, said: "This is a landmark day for the whole team at Dublin Bus and one that we are exceptionally excited about. We have been looking forward to announcing this partnership and we are delighted to be the main partner of Bohemian FC's Women's Premier Division team. This is a really talented squad made up of incredible people who have broken through barriers, both on and off the pitch. They are, and will continue to be, an inspiration to people of all ages right across the capital. We've long been an admirer and supporter of Bohemian FC and the values it displays on and off the pitch. Dublin Bus has a long standing commitment to diversity and inclusion, whether it's inspiring our daughters to grow up and achieve all their goals, connecting communities or helping all people to fully participate in society. These are values which also lie at the heart of Bohemian FC so extending our partnership through to 2025 aligns with the ethos of Dublin Bus".
The partnership honours the shared values of the two organisations. Where Dublin Bus is at the heart of communities across the Greater Dublin Area, Bohemians is a club that cares deeply about the wellbeing of its fans and wider Dublin population. Where Dublin Bus is committed to increasing its number of female drivers, first announced at the 2019 Give It A Spin female recruitment drive; in its inaugural season in the senior WNL 2020, Bohemians was one of the first clubs in the league not to charge annual fees for its players and in the 2021 season was reimbursing female players for all expenses they incurred.
Daniel Lambert, Chief Operating Officer at Bohemian Football Club, added: "This is a massive day for Bohemian FC and our continuous strides in women's football. To have a long term partnership with Dublin Bus as main shirt partner for our Women's Premier Division team, as well as our 17s and 19s LOI girls teams is something we are so excited about. We have made significant steps in the female game in recent seasons, in 2020 by being the first club to pay all players expenses, in 2022 moving all games to Dalymount Park and now in 2023 by having full equality across training facilities in DCU alongside our men's team. Bohemian FC now offers the best environment in Ireland for female players to reach their full potential.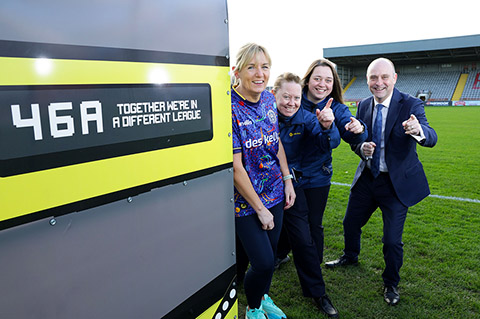 For Dublin Bus to also now also become our Diversity and Inclusion partner is a testament to the importance both organisations place upon improving and serving our shared communities across Dublin. In this area of the partnership we will be collaborating on numerous activities to assist groups often excluded in our society."
Earlier this year both organisations joined forces to launch a new jersey with a twist, and taking inspiration from Dublin Bus' iconic seat fabric design, Bohemian F.C. created a unique 2022 FAI Cup Kit. It features the multi-coloured retro-style pattern of Dublin Bus seats, which were introduced in August 1998.
The partnership also promises to increase visibility and support of the club's work with its amputee team, LGBTQ+ supporters group, Disability Supporters Association and community partnerships. Support of the LGBTQ+ community is equally important to both organisations. In June 2021, Bohemians became the first professional football team from the League of Ireland to march in Dublin Pride and has worked hard to make the club and Dalymount Park a more inclusive space for all through partnerships with ShoutOut and GayBohs LGBTQ+ supporters group. Dublin Bus is considered one of the most progressive organisations in Ireland in terms of inclusivity and diversity introducing pioneering LGBTQ+ policies, which included extending its paternity policy to all employees same-sex parents in 2014 and introducing Workplace Gender Transition Policy and Guidelines in 2017.
For people with disabilities, Dublin Bus' Lord Mayor Award winning Travel Assistance Scheme, established in 2008, helps people with disabilities to gain the confidence and skills necessary to use Dublin Bus and/or other public transport services in their daily lives. To date it has helped over 1,500 people to negotiate the public transport networks of the capital, giving them freedom to travel. Bohemian FC launched the first official Disabled Supporters Association in Ireland in 2021, which works closely with the club's Disability Access Officer and the club's Amputee team started in 2018 as one of the first teams in the inaugural Amputee National League. The team were League winners in 2020 & 2022, five of its members played at the Amputee World Cup 2022 in Turkey, and the team will be playing in this year's (2023) Amputee Champions League.