When you get on the bus, tell the driver where you want to go.
The driver will tell you how much your fare is.
Please make sure that you have the correct change to pay for your fare. All our services are exact fare only* and the driver cannot accept euro notes or give change.
Put your coins into the automatic fare machine that you will see in front of the driver. Your ticket will be given to you by the driver. Please keep your ticket for inspection.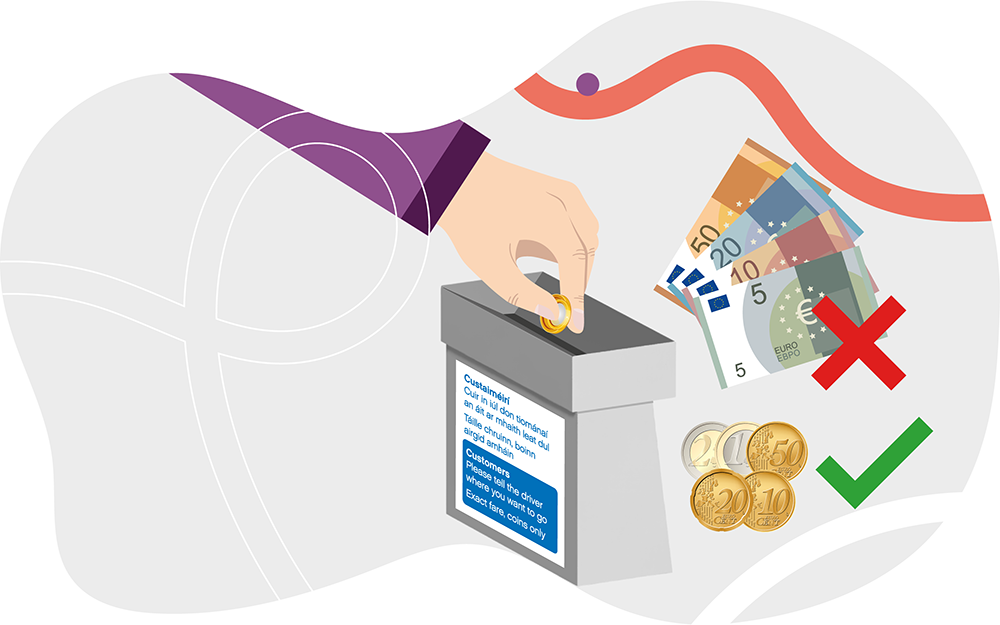 If you are paying with a Leap Card place your card on the drivers ticket machine. The cost of your journey will be deducted from the travel credit. You will not be issued with a ticket. If you are paying for a companion they will receive a ticket.
If you are travelling using your Leap Card to pay the flat fare you can simply hold your Leap Card
onto the smartcard reader.
All Leap Cards containing rambler products must be validated on the smartcard reader target for at least a couple of seconds or until a light appears.
If you have a Free Travel Paper Pass please show it to the driver.
If you are using a Public Service Card there are 2 options:
Option 1, if you are travelling alone, please validate your card at the smartcard reader on the right hand side as you get on the bus.
Option 2, if you are travelling with a spouse / partner / companion, please place your card on the ticket machine and the driver will issue a ticket for your travelling companion.
Visit our Fare and Tickets page for more information on Dublin Bus fares and Leap Card.