Dublin Bus Launch Mechanic Recruitment Campaign
13 March 2023
---
Dublin Bus is recruiting car and bus mechanics to help keep the fleet of over 1,000 buses on the road
Salary starting from €46,478.17 and rising to €55,263.62, inclusive of a 20% shift allowance
Dublin Bus, Ireland's largest transport provider, today launched a recruitment campaign for Car and Heavy Vehicle Mechanics to join their Engineering team.
Tasked with helping to keep the fleet of over 1,000 buses on the road, the successful candidates will undertake skilled tasks relating to preventative maintenance and repair of vehicles and Depot premises. Over the next number of years Dublin Bus will transform to a fleet of predominantly electric and hybrid vehicles.
Dublin Bus is offering a salary starting from €46,478.17 and rising to €55,263.62, inclusive of a 20% shift allowance, for Mechanics. Job responsibilities include vehicle fault diagnosis, general maintenance, and repair of vehicles, working on all vehicle types (conventional diesel, hybrid and electric).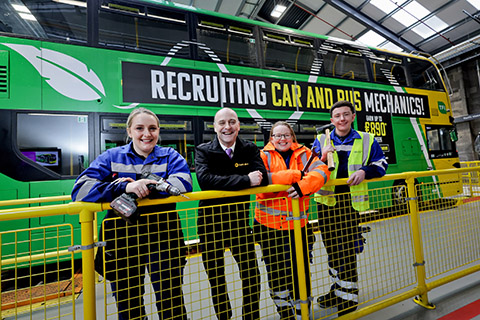 Below are the requirements to apply for mechanic positions at Dublin Bus:
National Craft Certificate for the trade of Heavy/Light Vehicle Mechanic awarded by SOLAS/Department of Education following the successful completion of a recognised SOLAS apprenticeship or
Advanced Certificate – Craft awarded by FETAC following the successful completion of a recognised SOLAS apprenticeship
A valid, clean category B Irish Driving Licence - held for a minimum of 2 years, with no endorsements is the minimum driving licence requirement (Full Category D Irish Driving licence is desirable)
Be over 21 years (to comply with D Licence regulation)
Benefits include:
Enviable level of job security
Medical (GP) Scheme
Excellent Pension Scheme
Subsidised Travel facilities
Career Development
Billy Hann, Chief Executive of Dublin Bus commented: "At Dublin Bus, we pride ourselves on having the best people to keep our modern fleet running and serving the people of the Greater Dublin Area. We have engineering excellence on the Dublin Bus team and want to add more skilled team members as we continue to grow. If any highly skilled Mechanics are interested in playing their part in keeping this city moving, working with a great team and being involved in innovative engineering challenges and solutions, please apply."
How to Apply
Applications via the Dublin Bus E-Recruitment Site, click the "Search" button to find the Heavy Vehicle Mechanic online application form.
All applicants should include a copy of their National Craft Certificate and copies of the front and back of their Driving Licence with their application form, scans or photos will suffice.