Transport Minister, NTA and Dublin Bus unveil electric bus charging infrastructure
19 November 2023
---
This development is an integral part of the BusConnects Programme
The installation of infrastructure that will facilitate the charging of battery-electric buses in Dublin Bus' Summerhill Depot in Dublin has been completed and will become fully operational this week. The first of the new green electric buses charged using the new infrastructure are now entering full passenger service.
Chargers with a capacity to recharge 56 battery-electric buses are now operational at the depot, as part of a planned phased roll out of electric buses that is already underway.
Minister for Transport Eamon Ryan, the National Transport Authority (NTA) and Dublin Bus today unveiled the charging infrastructure at the Depot, which will be one of two hubs for the city's new green fleet.
Phibsborough is the other depot, where charging infrastructure will be completed by the end of December with the capacity to recharge a further 80 battery-electric buses. Together the two depots will support a minimum of 136 electric buses which will help make the atmosphere in the city cleaner, quieter and more sustainable.
In recent weeks, new double deck battery-electric buses have been operational on certain Dublin Bus routes including the 122 and 123, and over 360 drivers have completed an extensive testing, piloting and training programme using the new buses in recent months. Even more of these electric buses will become operational now that the charging infrastructure has been completed.
The NTA initially ordered 120 double deck battery-electric buses in 2022, from manufacturer Wrightbus in Ballymena, Co. Antrim, 100 of which will be operated by Dublin Bus. Subsequent orders have been placed for a further 221 of these buses, of which 120 are destined for operation in Dublin. This brings the total number either in service or on order to 341 buses.
The new zero-emission fleet will replace the older diesel-powered fleet on an incremental basis as the latter buses reach the end of their efficient operational life. In the case of Dublin, that transition has now begun and by 2032 over 85% of the Dublin fleet is expected be zero-emission with a minority being low-emission hybrid diesel-electric buses. By 2035 it is planned that these hybrid buses will also have been phased out and the fleet will be fully zero-emission.
The NTA is on schedule to meet the low/zero emission vehicle targets by 2025, set out in the Climate Action Plan, the Greater Dublin Area Transport Strategy (GDA) and the National Sustainable Mobility Policy Action Plan 2022-2025 which states:
Action 13: Transition 50% of the Dublin Metropolitan PSO [public service obligation] bus services to low/zero emission vehicles; and
Action 14: Transition 40% of the Cork, Galway, Limerick and Waterford metropolitan area PSO [public service obligation] bus services to low/zero emission vehicles.
Minister for Transport Eamon Ryan said: "This change is being driven by electricity as we begin to see the introduction of electric buses on the streets of our capital and then our other cities and towns. This is going to be transformative for our public transport network. It's going to make our air cleaner and our streets quieter, providing quality and reliable buses for people, and helping us to meet our climate targets for the capital city, and for the country."
NTA CEO Anne Graham said: "Today marks an important milestone in the electrification of our bus fleet.
"We are all aware of the importance of using more sustainable modes of transport. The NTA continues to play its part in tackling climate change as we transition our public transport fleet away from fossil fuels to zero emission vehicles on a phased based between now and 2035."
Dublin Bus CEO Billy Hann said: "Today marks the beginning of an exciting new journey for both Dublin Bus and the city. These chargers and electric buses signal the first phase in a ground-breaking and ambitious project to electrify our depots and fleet by 2035. We are not just changing our fleet; we are changing the way the city moves. Creating a cleaner, greener, quieter future for Dublin with every journey."
Wrightbus CEO Jean Marc Gales said: "Our deal with the NTA is a historic one and we are delighted to see the first buses entering service. We are extremely proud to be playing a hugely significant role in Ireland's decarbonisation ambitions and these buses will play a major part in reducing emissions and improving air quality."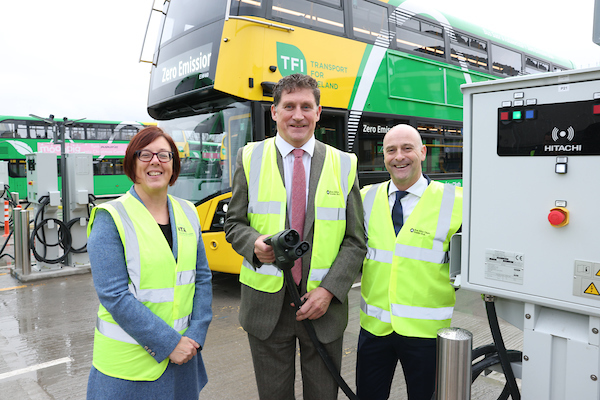 Customers can also get updates on Facebook, follow us on Twitter @dublinbusnews or call our customer service line on (01) 8734222, lines open from 07:00 - 19:00hrs Monday to Friday and 08:00 – 18:00hrs Saturday, Sunday and public holidays.